Google ARA module
UX design for a meditative, critically-focused Ara module by Midnight Commercial + Google



Project: with Midnight Commercial
Role: User Experience Design
Team: Noah Feehan (Creative Direction), Rebecca Lieberman ( UX Design )

I worked with Midnight Commercial on a novel Google Ara module that combined state-of-the-art optics technology, custom microbiology, and a deeply critical approach to everyday technology. The module would contain an imaging sensor, illumination system, multi-point thermal sensing, and of course, a tiny optically-clear microbiome mated to a hybrid physical/computational imaging stack.





The user experience challenge was to tackle how the user would interface with the biome through their phone. The experience was designed around fostering a contemplative, empathetic relationship with the living creatures inside your phone. In all our systems and design decisions, we made sure that our presentation and messaging would speak to the user's sense of hospitality—of sharing a weird, digital and physical space with these alien creatures.



User Flow


Wireframes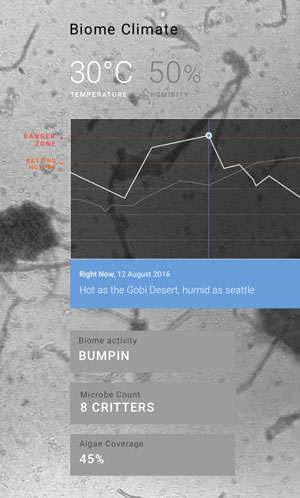 App Flow
contact : viniyata@gmail.com